INAH Yucatan and Cultur in the White Night: Free 9 functions of "Steps of Light in Dzibilchaltún"
Viernes 28 de Abril de 2023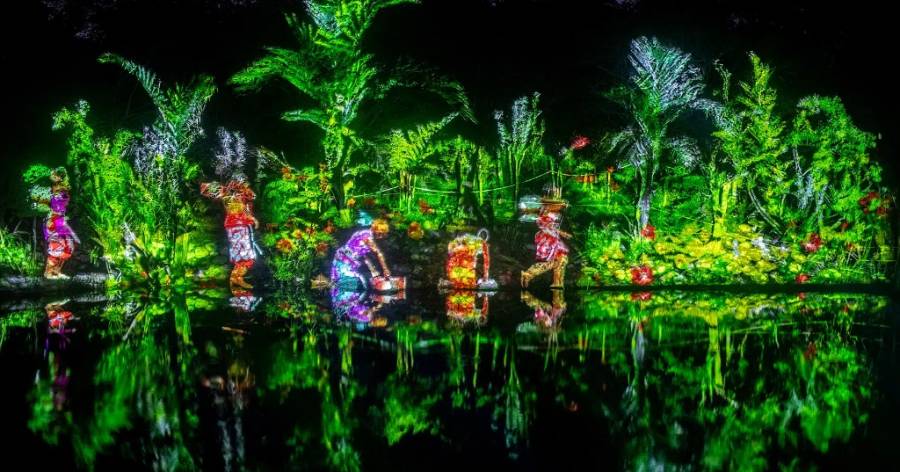 Tickets will be delivered from May 2 to 10
Mérida, Yucatán, April 28, 2023. In order to contribute to the cultural events that will be offered in "La Noche Blanca", organized by the City of Mérida, and which will take place next Saturday, May 23, the delegation of the National Institute of Anthropology and History (INAH-Yucatán) and Cultur agreed to offer 9 free functions of the video mapping "Steps of Light", which is projected in the archaeological zone of Dzibilchaltún.
This represents a great opportunity to enjoy a charming quality cultural show in a mystical atmosphere of stories, sounds, lights and colors. With this contribution, the range of traditional events such as music, theater, poetry, literature, etc. is expanded.
The first performance, on the date already indicated, will be at 7:30 at night and the next eight will be every 15 minutes (7:30 p.m., 7:45 p.m., 8:00 pm, etc.). It is suggested that they be a little before each time, so that the accesses are in an orderly manner.
Places to pick up tickets
It is important to note that tickets will be delivered in advance, from Tuesday, May 2 to Wednesday, May 10, at the following locations:
From 9 a.m. to 3 p.m. at the reception of the Cultur offices, located at the Yucatan Siglo XXI Convention Center, at Calle 60 Norte Number 299 E, Ex Cordemex, Colonia Revolución; and from 6 pm to 9 pm at the Parador de Dzibilchaltún, about 15 minutes, north of the Yucatecan capital.
Up to 4 tickets per person
In order to give opportunity to the largest number of families, the maximum number of tickets will be four per person. Those interested must present an official identification and a register of beneficiaries will be made.
Tours with groups of 60 people
Each tour will be done with a maximum of 60 people, so that it is safe and you can better enjoy the audio-light show.