Cultur reports good progress in the video mapping of San Gervasio in Valladolid
Jueves 25 de Mayo de 2023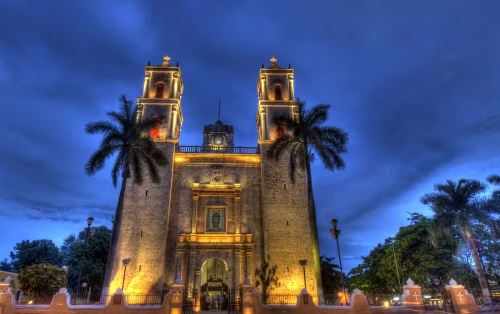 It involves a technical-scientific process and complicated design and production
Mérida, Yucatán, May 25, 2023. In relation to the note published today in its medium (Diario de Yucatán) with the title of "Wait of four months of a video mapping", in which it is indicated that in this project contemplated for the temple of San Gervasio it is not yet specified and that there are still no works or adaptations and equipment, Cultur wishes to specify the following:
It is important to note that projects of this nature require a series of processes, permits, production, etc., that take time, which began at the beginning of the year when it was announced.
For example, to install the booth where the equipment will be, which are very sophisticated, a permit is required, which after studying its location is granted. We have already worked, as a team with the authorities of INAH-Yucatan, and soon it will be obtained, so that construction can begin, in which we will have the support of the City Council of Valladolid.
While the above is being done, work has also been done in parallel on the production of the video that is practically ready, but it will also have to go through the approval of the aforementioned federal authority that is in the best disposition to support the project; They have already made some observations and the adjustments and adjustments are being processed, so that everything is as it should be and then it can be projected.
What does it mean to make a video mapping?
Doing a job of this magnitude is not as simple as it might seem, it requires a technical-scientific work such as producing the animated part, taking care that there is a perfect splicing of it with the audio or narration, and that all the images are consistent with the narrative.
The script requires research work and the music used has to be original, for the issue of copyright, so it must be commissioned to professionals for its production.
We understand that many people would like to see this cultural spectacle, and we ask for your understanding for the time it takes, but for all that it implies it has to be done with all the thoroughness it deserves. As an example is the videomapping of Dzibilchaltún that its creation took about 12 months.
Finally, it should be noted that this video mapping will be added to the existing ones of "Nights of Kukulkan", "Echoes of Uxmal", "Steps of Light" in Dzibilchaltún, "Paths of Light" in Izamal, "The Heroic Night" which is also in Valladolid, and "Nights of the Picheta Passage".
In short, it remains to say that there is already a good progress in this project and that soon people will be delighted with this cultural event that will be screened in the temple of San Gervasio.